WEDNESDAY

Barn2:
It had been a scary few days for me. Ko Ko Trax (above) didn't seem to want to play with me since last week and he kept wanting to go to sleep whenever he can. Mummy laughed at the 'good baby' who curled up in one of his many beds (he has one bed downstairs, two beds upstairs. This is not to mention Mummy's bed as well….!) at 9.30pm. Ko Ko doesn't sleep that early on normal days. We all thought that he was just getting old.

On Wednesday night, Mummy was on the handphone and was trying to get Ko Ko to do his night pee-ing before herding us upstairs to sleep. Ko Ko was not very keen on moving- so Mummy used the choke chain on him.

Actually Ko Ko likes the choke chain. It is a signal that he is going to go for 'kai kai' (walkies). The mere clink of it would get him excited. This night was different. Ko Ko was not keen on moving. At one point- when I was trying to chomp his backside (whenever Mummy gives him undue attention, I would try to chomp his behind to remind him that I'm still around), Mummy pulled him towards the gate (where unfairly- he would get a free walk outside the gate.I am not allowed to go out there just in case I get into the habit of rushing out onto the road by myself…). Ko Ko collapsed. Well, he kinda sat down and laid down. Refused to get up. So Mummy and I thought.

Mummy: Actually he couldn't walk any more. I was horrified. Thought I had caused him to get a slipped disc or something.

Barn2: As Mummy carried him back to the house- I kept trying to jump up to bite his backside….and Mummy kept moving him out of my teeth's reach.

Mummy: I carried Trax upstairs and tried to check on him. His back legs were responsive to tickling of his chest…They still thumped. But he was lethargic and limp. It was getting quite serious. I called the 24 hour vet clinic at 1am and made appointment with the nurse to bring him down the next day at 1030am. Placed him on his bed next to my computer and sat up with him till 4am. Did a lot of work on the computer even as I kept a close eye on him.

THURSDAY
Barn2: Mummy took Ko Ko to the vet. I was left at home. It wasn't funny. I got a feeling that things were't quite right only at breakfast time. Ko Ko wouldn't respond to my pawing at his face. Usually we would play after our meals but he wasn't interested. He also looked very tired. I was uneasy…more so when Mummy took him out and left me behind.

Mummy: Dr Jean Paul Ly, Trax's vet, did several tests. Then he came to me and in his most pastoral manner, laid his hand on my shoulder and said, " I am really sorry. This isn't your day. Trax has tick fever. His red blood count is 15%. Very low. His urea is 82 (normal is 7 to 26)and his creatin. is 2.4 ( normal is 0.30 to 1.40). He needs a blood transfusion. We tested for his blood type. He has a rare blood type. 1.1 Negative. Bring Marky over for testing as a possible blood donor….If he doesn't have that type, we have to find it somewhere somehow. There isn't a canine blood bank in Singapore….".

I have known Dr Ly for the past 16 years or more. He had been my dogs' main vet all the while and he is a personal friend. We used to go fishing on his boat with a few of our friends years ago. He's the one who invented the ADDICTION pet foods( http://www.addictionfoods.com/resources/Addiction_BusinessTimes.pdf).

"Here is where you really need to get your intercessors to pray….We need a miracle," he said. I sms-ed (text-ed) our church's chief intercessor Mrs Lim, several staff members and friends. Phoned my dad to pray as well. :Rushed to get tick spray before returning home. When I reached home, I bathed Barn2, fumigated the rooms and washed/sprayed beddings. Put Marky in the car and went to the clinic…

Barn2: At first I was upset that Mummy had left me at home. Dada (Granddad) wasn't around either (he goes to church to pray daily) so I was a bit frightened…Usually Ko Ko Trax would be with me. If she ever takes him out without me, at least Dada would be there.

After a while, Dada came back. I could tell that he was worried about something. He kept trying to comfort me. I didn't know why. Is Ko Ko Trax ok? When Mummy came back,I looked for Ko Ko Trax. But he wasn't there! Where could he be?? I didn't have much time to think because Mummy bundled me upstairs for a quick bath . Then she sprayed some horrible stuff on me. Yuk. Before I knew it, she had gone off with Ko Ko Marky.

Marky: I don't usually get to go out. My spoilt corgi brothers go out more often than I. A part of me didn't mind that. I am nervous about new places and I love being in the backyard most of the time. Even when Mummy and Dada lets me out to the front porch to run, I don't feel uncomfortable. Am scared of strangers coming to beat me up. Maybe that's got to do with my background as a stray pup many years ago. That was long before Mummy got me rescued, fostered and then adopted me. This day, Mummy rushed me up the car and drove me to this strange place. They took some blood from me. About half an hour later, they took me upstairs to this room and several people suddenly hoisted me onto a steel table. They held me down as I struggled to get up. Mummy was holding my legs and she kept calling my name and trying to calm me down. A man came and gave me a quick jab. It felt like an ant bite. Soon the world seemed to be quite blurry and nothing seems to worry me….I kinda dozed off…..I could hear them talking but I wasn't exactly awake.

Mummy: Dr Ly came to me with a funny smile on his face. " Wow. You all must have been praying hard….Marky's blood is the same as Trax's! We have a donor…"
Praise the Lord! How ironic. Trax couldn't get along with Marky. Four years ago, they had three major fights. Trax's ears were redesigned by Marky as a result.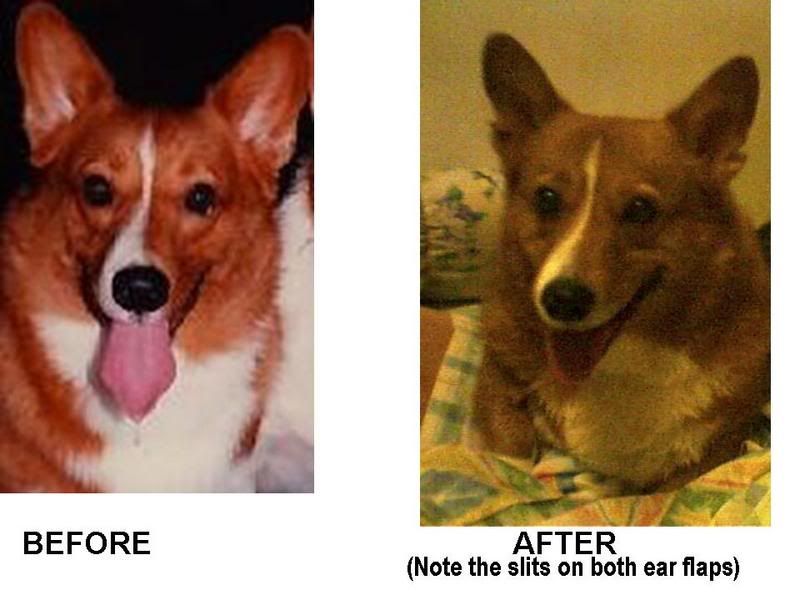 But the fault was Trax's. He started all the fights. As a result, we had to put Marky at the back of the house, separated from the other dogs. Barn2 was all right with Marky when Barn2 was a pup. When he reached puberty, he started acting 'ya-ya' (rudely/ not keeping his place) with Marky. So he isn't allowed to meet up with Marky except through the door grills. Marky lost the chance of living inside of the house with all of us.We have always felt sad about that.

Now Marky is giving Trax his blood…saving him in the process.

Another twist to the story: When Marky first came to us, he was a hit and run accident victim. The head of his femur bone was totally crushed. Dr Ly operated on him. To make sure that Marky had enough blood for the major operation, Dr Ly had a dog on standby to give Marky blood. (Surprisingly, Marky's blood type was not listed in the records. We checked). Now that we know that Marky is 1.1 Negative blood type, Dr Ly has recruited him to be a canine blood donor. Where Marky had been the recipient of help…now, he has turned to be a giver of help to those who are in need. In my eyes, Marky my boy has 'grown up'.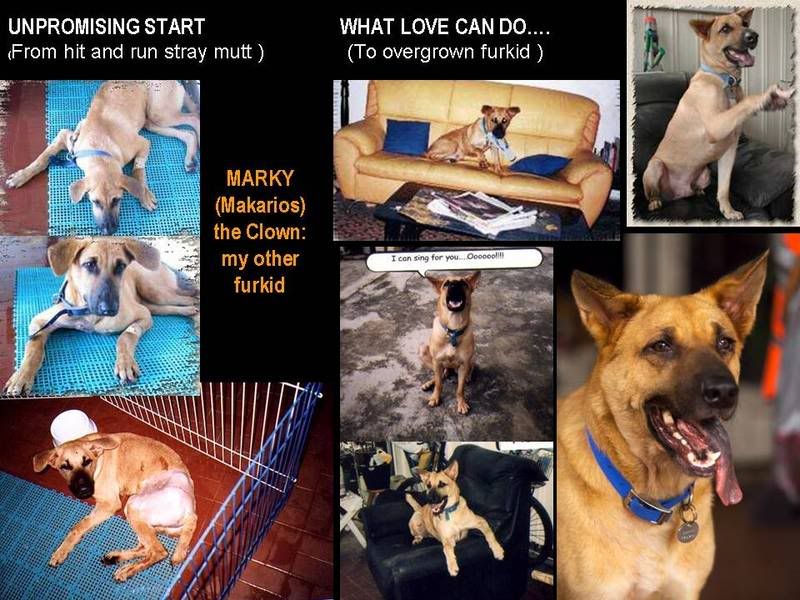 The blood transfusion on Trax would last for the whole night. I took Marky home after he contributed his share. He was still a bit groggy. Washed and sprayed him before leaving him to have his dinner. He was given extra liver for supper.

Barn2: Thursday night was the most difficult night for me. Ko Ko Trax wasn't around. I sensed the Dada and Mummy were worried but I didn't know what it was about. Ko Ko Marky looked like he is drunk. I buried my head on Mummy's pillow and sought comfort in her arms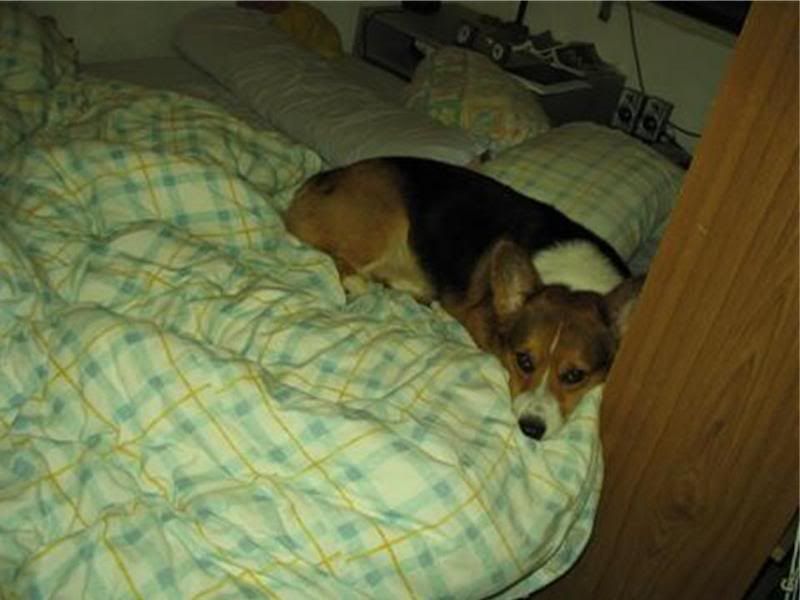 FRIDAY
Mummy: Trax's transfusion ended at around 630am. I had a meeting till 1pm so I collected him at 1.30pm. When the nurse carried him downstairs, he looked lost. There was no recognition in his eyes. She placed him on his pram. As I was paying the bill, he sat up, looked around….heard me calling his name…and then I saw this sudden 'switching on of the light'. He realized where he was and who I am. Then it was ' bark.Bark. BARK!!!! BARK!! BARK !!! BARK!!!'. He had started scolding me! He must be feeling well enough to do it. PTL. Took him home, fed him and let him rest. Barn2 was a bit unsure of what was happening- kept his distance for a while. Vet report said his blood count had gone up to 35%. His urea is now 55 and his Creatin is 1.50. He is improving. Thank God.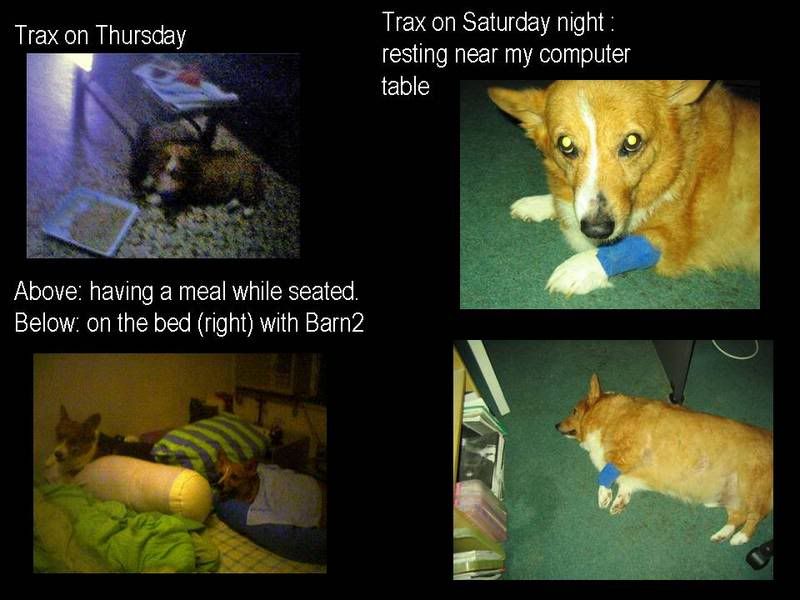 SATURDAY
Barn2: Well, Ko Ko Trax is back. He was a bit under the weather yesterday…but today- he seems to be his grouchy self. Growled and barked at me when I disturbed him. I will give him some space. He does look a bit tired although he looked much better than when I last saw him. Things seem to be getting back to normal. Ko Ko Marky is still bullied by the mynah birds who steal his food, swim in his water bowl, poo on his head. Mummy has taken to shooting the birds (or in their direction) with a water pistol.

Ko Ko Trax is still growling off and on and giving Mummy the run-around re: his meals. He would make her try different ways of getting his pills into him. He is a clever one.

I have just had my dinner and I will take a snooze now….So much for excitement!